Our new Datacenter is located in Latina, a low seismic risk (3A) area outside from the metropolitan dense areas of Rome and Milan and is interconnected with very low latencies to the major Italian internet exchanges, being thus suitable both for disaster recovery and content delivery applications.
The closeness to the most important national networks gives to our customers and variegate choice of solutions that can be integrated to their colocations services.
Being inside our company headquarters, in a dedicated facility, it guarantees rapid support services thanks to the presence of expert tecnicians during work hours and during extended support slots for remote hands intervention.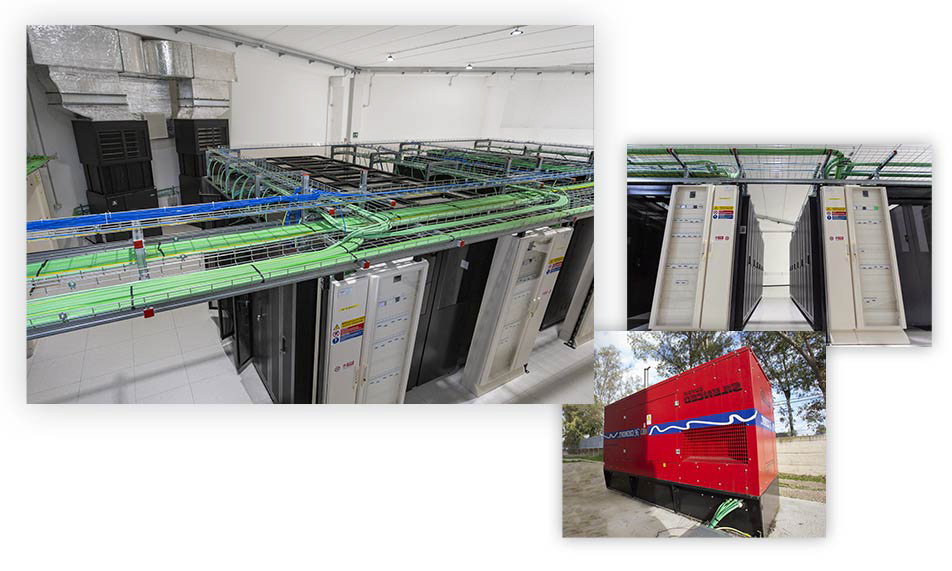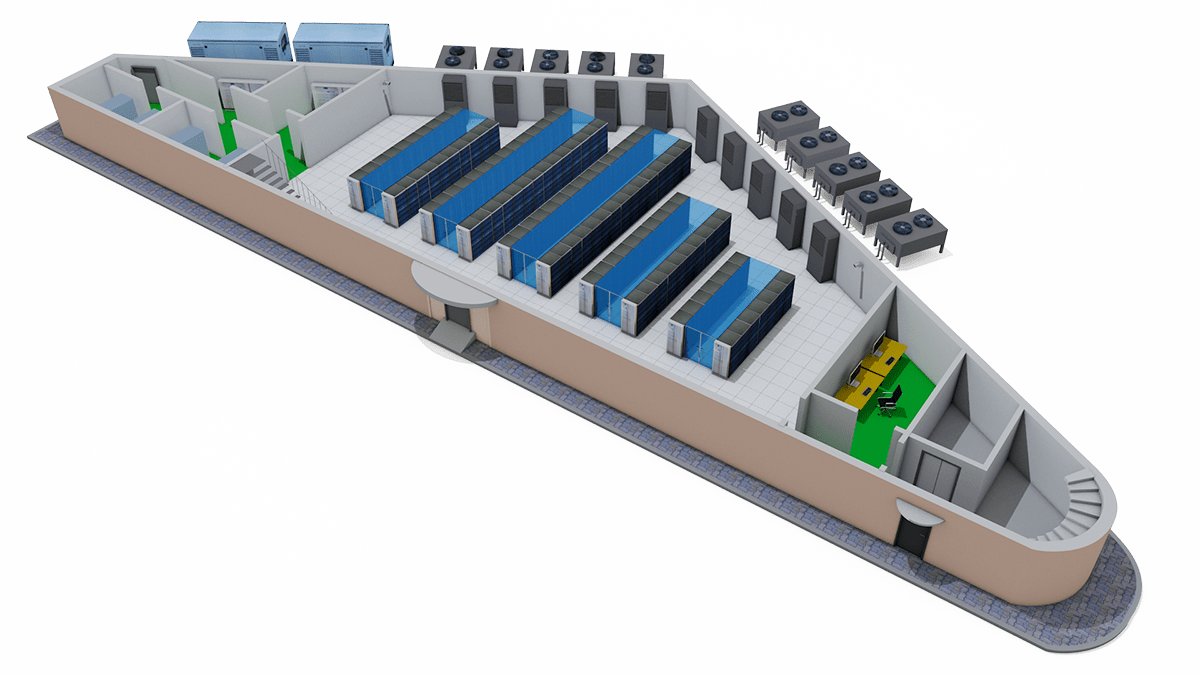 POWER CENTER & UPS
Rooms A e B
FIBER MEET ROOM
ON THE UPPER FLOOR
RACK COLD AISLES
(5 AISLES, 110 RACKS)
Affidabilità. flessibilita e performance.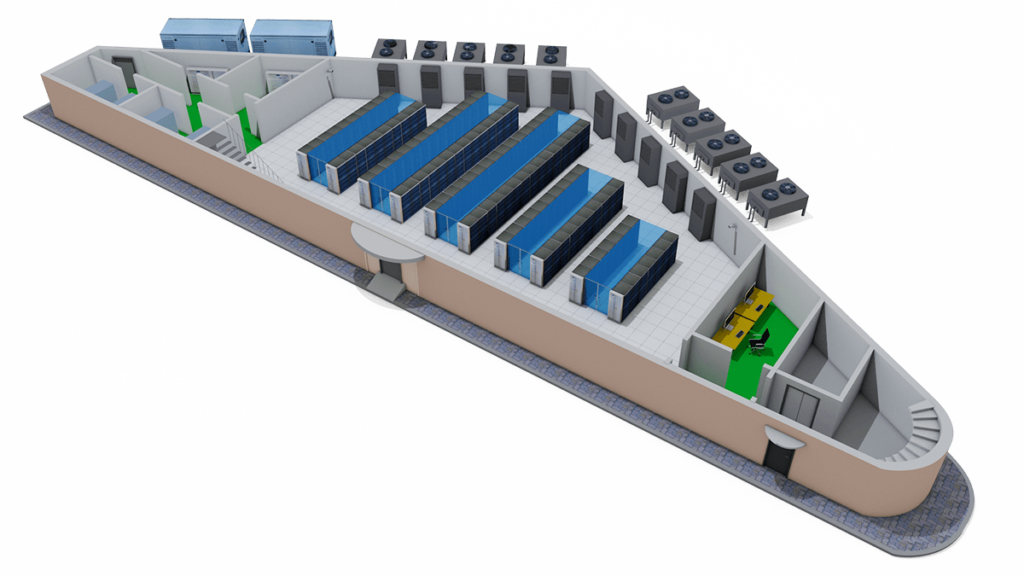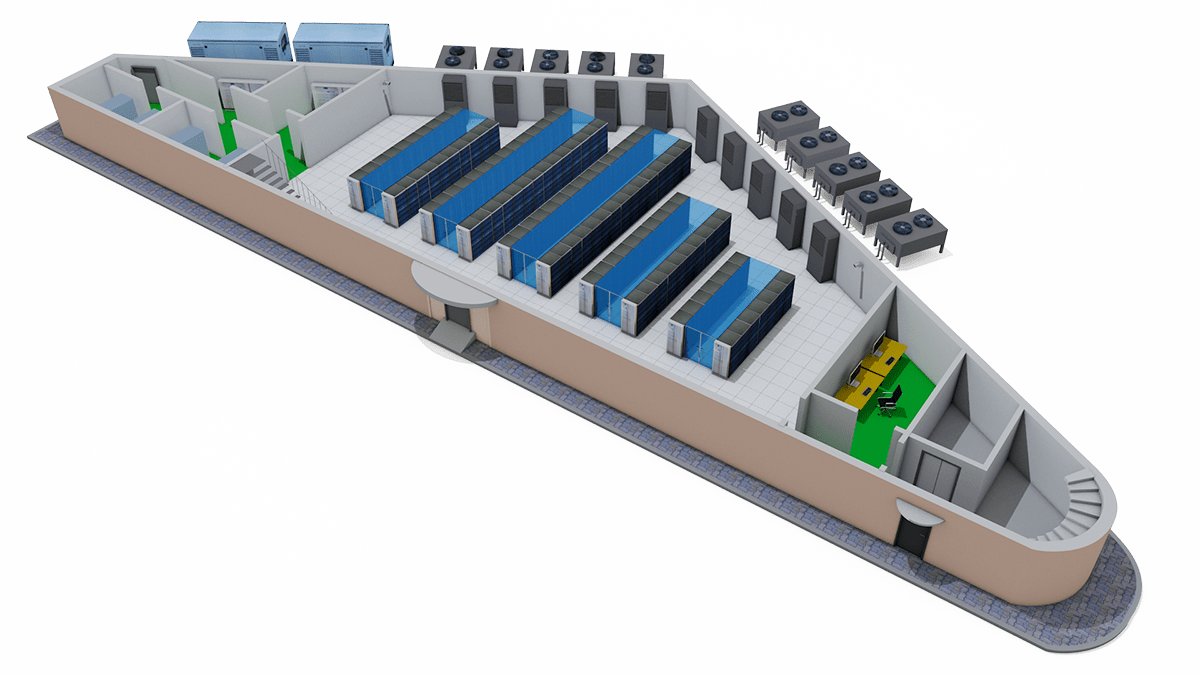 // LATINA DATACENTER
Reliability, flexibility and performance
READY FOR SERVICE
Our new datacenter, located at 1 msec from Rome and 10 msecs from Milan, sports a dedicated serer area of 400 sqm, with a capacity of about 110 racks organized in cold corridors, with about 16 cubic meters of room-space per rack. The location is protected by perimeter alarmsm, technological alarms, video surveillance, redundant air conditioning. modular UPS and diesel generator.
Easily reachable from Rome's airports (Fiumicino, Ciampino) and from Frosinone, the datacenter has ducts towards the curbs of the four main national operators, and is on our national "ring" spanning across Rome/Namex, Milan/Mix, Milan/Minap and reaching three independent transit networks.

Multicarrier fiber
The meet-me room is easily reachable from main national networks

DdoS protection
DDoS protection available as a data center service or through external vendors

Security Systems
Monitoraggio continuativo del traffico di rete, dei consumi elettrici e dei parametri di sala, personale di supporto on-site

Green friendly
The entire surface of the roof, except for the wireless area, is dedicated to a solar plant

Monitoring
Continuous monitoring of network traffic, electricity consumption and room parameters

Electrical redundancy
Two independent power lines for racks up to 7 kW, modular UPS, generator system
Some real pictures about our datacenter
Dimensions

400sqm for DC + 50qsm for meet-me
400sqm for future expansion
400sqm for office area
2500sqm per parking lots and outdoor facilities
Roof space for radio links

Capacity

5 cold corridor aisles
110 Racks on 400sqm
16 m3 room space per rack

Bulding

Own premises

Heights

floating floor to ceilig: 5mt
floating gloor: 60 cm dediceted to cooling

Uptime since June 2022

100%
Connectivity

 

carrier-neutral
multi-path AS20912
multi-carrier
lambda to RM/Namex on redundant path
L2 ring to Namex, Mix, Minap

 

Diesel generator

YES

UPS: Modualr

N+1

Air conditioning

N+1

Anti-intrusion system

three levels

Distance from major IXPs

 

Namex: ~1 msec RTT
Mix: ~10 msec RTT
Minap: ~10 msec RTT

 
// Strategic connections
OUR NETWORK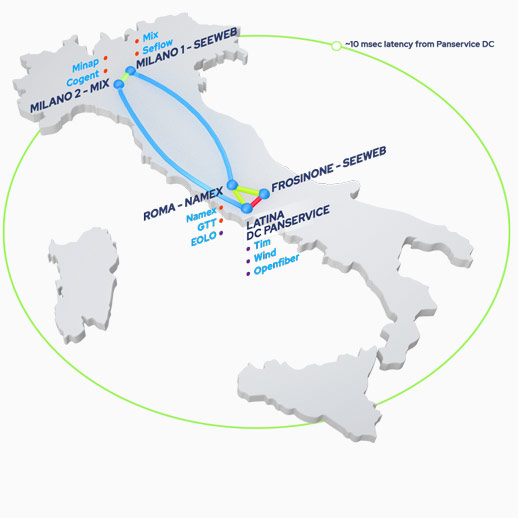 Our network reaches Latina, where the datacenter is located, Rome an Milan and Lecce. A new ring is being built between Latina, Frosinone and Rome.
This topology interconnects the datacenter with the major national IXPs like Namex in Rome, Mix and Milan in Milan (Via Caldera), where are configured the direct peering with about 400 networks of other national and international operators and transit links.
The datacenter is anyway carrier-neutral. The datacenter has fibers to local TIM exchanges, and Openfiber and Wind local POPs.
Internet IPv4 and IPv6 connectivity is multihomed, multipath, and as an AS_PATH shorter than 3 hops towards most of national and international destinations. Our network is continuously monitored and is managed by internal personnel.
Our network is continuously monitored and is managed by internal personnel.
Renewable sources and energy efficiency for an increasingly "green" data center
The data center is equipped with N+1 free-cooling which allows high energy savings during the cooler months. The entire surface of the flat roof of the building is dedicated to a photovoltaic system mainly dedicated to on-site self-consumption.